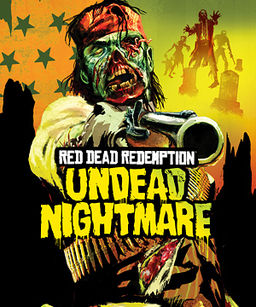 Red Dead Redemption: Undead Nightmare is the fifth downloadable content (DLC) pack released for Red Dead Redemption. It was released for the PlayStation 3 and for Xbox 360 on October 26, 2010. Undead Nightmare follows the exploits of John Marston, as he searches for a cure for an infectious zombie plague that has swept across the American Old West.
A standalone disc titled Red Dead Redemption: Undead Nightmare Collection which does not require the original Red Dead Redemption game to be played, was released on November 22, 2010 in North America and November 26, 2010 in Europe. The disc includes three DLC packs: Legends and Killers, Liars and Cheats and Undead Nightmare Pack.
Ad blocker interference detected!
Wikia is a free-to-use site that makes money from advertising. We have a modified experience for viewers using ad blockers

Wikia is not accessible if you've made further modifications. Remove the custom ad blocker rule(s) and the page will load as expected.