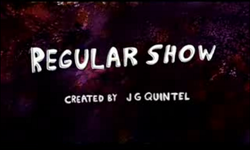 Regular Show is an American animated television series created by J. G. Quintel (formerly a creative director for The Marvelous Misadventures of Flapjack). The series was originally developed as a short for Cartoon Network's unaired Cartoonstitute show, and features characters loosely based on those from Quintel's student films The Naïve Man From Lolliland and 2 in the AM PM. It was green-lit on August 13, 2009 by Cartoon Network[2] and debuted on September 6, 2010.
Ad blocker interference detected!
Wikia is a free-to-use site that makes money from advertising. We have a modified experience for viewers using ad blockers

Wikia is not accessible if you've made further modifications. Remove the custom ad blocker rule(s) and the page will load as expected.