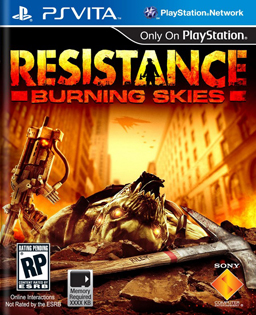 Resistance: Burning Skies is an upcoming first-person shooter game for the PlayStation Vita developed by Nihilistic Software and to be published by Sony Computer Entertainment. It was formally announced on August 17, 2011 at GamesCom. Players control Tom Riley, a firefighter who fights against the Chimera during their invasion of the United States.[1] Burning Skies will be the first ever first person shooter on a portable console that makes use of dual analog stick controls. Burning Skies also boasts competitive 8-player online multiplayer (4 v. 4) across 6 unique maps and 3 modes, including Deathmatch, Team Deathmatch, and another mode entitled "Survival". Resistance: Burning Skies also brings back a series staple in the weapon wheel, as well as traditional weapons like the Carbine, Deadeye, Auger, and Bullseye, the former two being Human weapons and the latter two being Chimeran weapons. Secondary functions of these weapons are controlled in many cases using the touchscreen on the Vita; the Carbine's grenade launcher and the Bullseye's tagging feature are examples of this.
Ad blocker interference detected!
Wikia is a free-to-use site that makes money from advertising. We have a modified experience for viewers using ad blockers

Wikia is not accessible if you've made further modifications. Remove the custom ad blocker rule(s) and the page will load as expected.