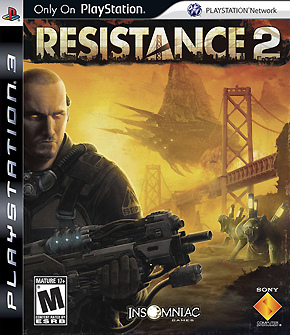 Resistance 2 is a science fiction first person shooter video game developed by Insomniac Games and published by Sony Computer Entertainment for the PlayStation 3. The game was released in North America on November 4, 2008, Japan on November 13, 2008, and in Europe on November 28, 2008. Resistance 2 is the sequel to the best-selling PlayStation 3 launch title Resistance: Fall of Man.Resistance 2 sees protagonist Nathan Hale travel to the United States in order to once again battle the Chimera, who have launched a full scale invasion of both the east and west coasts. In this game, Hale is part of an elite force of soldiers called "The Sentinels", who, like him, are infected with the Chimeran virus, and must keep it under control through regular application of inhibitors.
Ad blocker interference detected!
Wikia is a free-to-use site that makes money from advertising. We have a modified experience for viewers using ad blockers

Wikia is not accessible if you've made further modifications. Remove the custom ad blocker rule(s) and the page will load as expected.