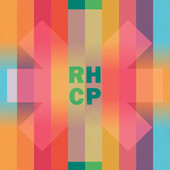 Rock & Roll Hall of Fame Covers EP[1] is EP by American rock band Red Hot Chili Peppers, released in 2012 through iTunes as digital-only download. The band first announced the EP through their website on April 19, 2012 with the title, We Salute You although it was changed on the date of the release.[2] The EP consists of six cover songs, live and in the studio, of previous Rock and Roll Hall of Fame inductees all who influenced the band. The EP is being released to commemorate the band's own induction into the Rock and Roll Hall of Fame in 2012. All six songs have been previously featured on other releases by the band. Four of the six tracks have never been released digitally before.
"Teenager in Love" was released as one of the B-Sides on the By the Way single, "Search and Destroy" first appeared as a B-Side on the "Give it Away" and "Under the Bridge" singles, "I Get Around" was performed during Brian Wilson's 2005 MusiCares tribute and only a DVD performance has been released, "Suffragette City" was previously only available as a B-side to the band's single "Aeroplane", "Everybody Knows This Is Nowhere" was recorded live during Red Hot Chili Peppers' 2011-2012 world tour supporting their album I'm with You and first released through the band's website on one of their official bootlegs and "Havana Affair" first appeared on We're A Happy Family - A Tribute To The Ramones. It was also available digitally as the iTunes bonus track for Stadium Arcadium upon its 2007 rerelease, but was quickly removed for unknown reasons. This release means it is available digitally once again.
Ad blocker interference detected!
Wikia is a free-to-use site that makes money from advertising. We have a modified experience for viewers using ad blockers

Wikia is not accessible if you've made further modifications. Remove the custom ad blocker rule(s) and the page will load as expected.