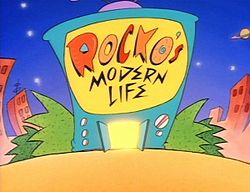 Rocko's Modern Life is an animated series created by Joe Murray. The show aired for four seasons between 1993 and 1997 on Nickelodeon. Rocko's Modern Life is based around the surreal, parodic adventures of an anthropomorphic wallaby named Rocko, and his life in the city of O-Town. Originally from Australia, the show explores his American life as well as the lives of his friends: the gluttonous steer Heffer, the neurotic turtle Filburt, and Rocko's faithful dog, Spunky. The show is laden with adult humor, including double entendres, innuendos, and satirical social commentary. Joe Murray initially created the title character for an unpublished comic book series in the late 1980s, and later reluctantly pitched the series to Nickelodeon, who was looking for edgier cartoonists for their new Nicktoons block. The network gave the staff of the program a large amount of creative freedom, the writers targeting both children and adults. The show's animation's stylistically features crooked architecture. In addition, Murray picked a large amount of newcomer voice actors, such as Tom Kenny and Carlos Alazraqui, who have in recent years gone on to become very popular. The show was the fourth Nicktoon to premiere. Produced by Games Animation and Joe Murray Productions, the show premiered on September 18, 1993 and ended on November 24, 1996. After the show's completion, much of the staff regrouped to work on SpongeBob SquarePants, created by producer Stephen Hillenburg. Rocko's Modern Life generally received positive reviews during its original broadcast run and in recent years has seen renewed praise for sophisticated and subversive humor. The series also has over time developed a devoted following of fans, making many commentators deem it a cult television show.
Ad blocker interference detected!
Wikia is a free-to-use site that makes money from advertising. We have a modified experience for viewers using ad blockers

Wikia is not accessible if you've made further modifications. Remove the custom ad blocker rule(s) and the page will load as expected.