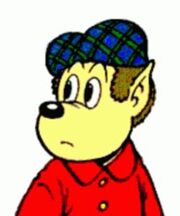 Scottie McTerrier was appointed caretaker of the McDuck Castle by Scrooge McDuck in 1902. He died in 1948. Sometime after Scotty died Matilda McDuck took over the castle.
His name was first mentioned in The Old Castle's Secret by Carl Barks, but his true first appearance was in The Life and Times of Scrooge McDuck Part 9 by Don Rosa.
Ad blocker interference detected!
Wikia is a free-to-use site that makes money from advertising. We have a modified experience for viewers using ad blockers

Wikia is not accessible if you've made further modifications. Remove the custom ad blocker rule(s) and the page will load as expected.