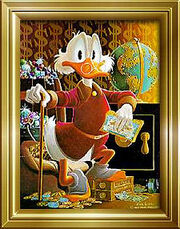 Scrooge McDuck or Uncle Scrooge is a Scottish anthropomorphic duck created by Carl Barks that first appeared in Four Color Comics#178, Christmas on Bear Mountain, published by Dell Comics in December 1947.
Over the decades, Scrooge has emerged from being a mere supporting character in the Donald Duck oeuvre to a major figure of the Duck universe. In 1952, he was given his own comic book series, Uncle Scrooge, which still runs today. As the character's popularity rose, he appeared in various television specials, films, and video games. Scrooge, along with several other characters of Duckburg, has enjoyed international popularity, particularly in Europe, and books about him are frequently translated into other languages. Captain Marvel co-creatorC. C. Beck declared "Uncle Scrooge was my all-time favorite character".
Ad blocker interference detected!
Wikia is a free-to-use site that makes money from advertising. We have a modified experience for viewers using ad blockers

Wikia is not accessible if you've made further modifications. Remove the custom ad blocker rule(s) and the page will load as expected.