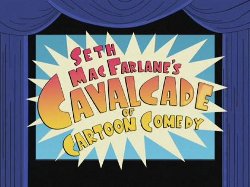 Seth MacFarlane's Cavalcade of Cartoon Comedy is an American cartoon web series created by Seth MacFarlane.
The series, which consists of comic cartoon shorts unrelated to each other, is released on YouTube. The series, which aired several episodes a month, was originally sponsored by Burger King, with videos appearing on their official channel. The series is now sponsored by Priceline.com. There are 50 altogether. It has seen a successful launch on MacFarlane's YouTube Channel, SethComedy, becoming the most watched YouTube channel of the week obtaining over 3 million video views only 2 days after the first episode was released. The series is similar to the "cutaway gags" of MacFarlane's TV series Family Guy. Since the twelfth episode, profanity has been uncensored.
Ad blocker interference detected!
Wikia is a free-to-use site that makes money from advertising. We have a modified experience for viewers using ad blockers

Wikia is not accessible if you've made further modifications. Remove the custom ad blocker rule(s) and the page will load as expected.