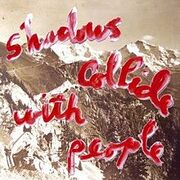 Shadows Collide with People is the fourth studio album by John Frusciante, released February 24, 2004. The album was written during the recording of By the Way,[1] and is widely regarded as his most accessible work, featuring a mix of guitar-driven alternative rock, folk ballads, and electronica. Frusciante has stated that this was his most expensive album to date, costing around $150,000 to produce.[2] Frusciante noted, "I was sick and tired of people dismissing my records as being fucked-up and unprofessional."[3]
Flea plays a double bass on "The Slaughter", the closing track of the album. All tracks were written by John Frusciante and the majority of the vocal work is performed by him.
Frusciante also made acoustic and demo versions of these tracks available to fans through his official site, now only a blog, as an alternative to the highly produced sound of the record. A promo version of the album was also made, with the tracks "Omission", "Song to Sing When I'm Lonely", and "Failure 33 Object".
The album reached number 191 on the Billboard 200 and #11 on Heatseekers.[4]
On the vinyl release of the album the words "One step away" were inscribed on side A, "There's riddles in the shadows" on side B, "A hint of sadness" on side C, and '"What they least suspect is coming next" on side D. All of these were hints to lyrics on John's next solo album The Will to Death.
Ad blocker interference detected!
Wikia is a free-to-use site that makes money from advertising. We have a modified experience for viewers using ad blockers

Wikia is not accessible if you've made further modifications. Remove the custom ad blocker rule(s) and the page will load as expected.