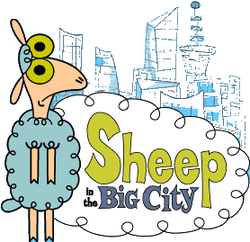 Sheep in the Big City is an American animated television series which ran on Cartoon Network for two seasons, from November 4, 2000 to April 7, 2002.
Created by Mo Willems, the bulk of the show follows a runaway sheep, Sheep, in its new life in "the Big City." It also features several unrelated sketches and shorts, similar to The Rocky & Bullwinkle Show.
With an emphasis on more "sophisticated" (in particular, literal) humor, using multiple forms of rhetoric from the characters to the plots, it was more popular with older audiences. It was also unusual in featuring many comic references to film-making and television broadcasting, although this is often overlooked.
At the time, the premiere of Sheep in the Big City was the highest-rated premiere for a Cartoon Network original series.
Ad blocker interference detected!
Wikia is a free-to-use site that makes money from advertising. We have a modified experience for viewers using ad blockers

Wikia is not accessible if you've made further modifications. Remove the custom ad blocker rule(s) and the page will load as expected.