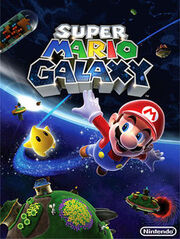 Super Mario Galaxy (スーパーマリオギャラクシーSūpā Mario Gyarakushī?) is a 3D platform game developed by Nintendo EAD Tokyoand published by Nintendo for the Wii. It was released in most regions in November 2007, and is the third 3D original platformer in theMario series, after Super Mario 64 and Super Mario Sunshine.
The game follows the protagonist, Mario, on a quest to rescue Princess Peach from the game's primary antagonist, Bowser. Levels aregalaxies filled with minor planets and worlds, while gameplay is updated with gravity effects and new power-ups.
Super Mario Galaxy was first shown at E3 2006 and enjoyed a high level of pre-release awareness. The game has been hailed by severalgaming websites as one of the best video games of all time[3][4] and has won a BAFTA. GameRankings lists the game as the best reviewed Wii game and the second best reviewed game of all time. The game is the ninth best selling Wii game worldwide with sales of over 8.84 million.
The sequel, Super Mario Galaxy 2, was announced at E3 2009,[5] and was first released in May 2010.[6