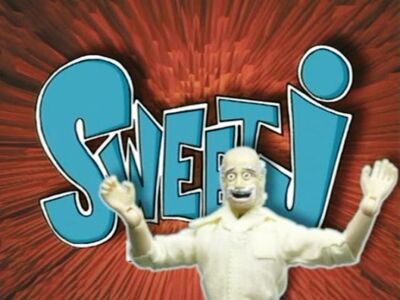 Sweet J Presents was the original Robot Chicken for the Sony website screenblast.com in 2001. The show was created, written, and produced by Seth Green and Matthew Senreich. The show ended after 12 episodes and returned to Cartoon Network's Adult Swim in 2005 as Robot Chicken. In the first episode (Conan's Big Fun), Conan O'Brien did not do his own voice. Instead they got Seth MacFarlane to do it.
Robot Chicken
Edit
When Sweet J Presents returned as Robot Chicken, the show started using a channel flipping style, which was not in Sweet J Presents. The show also had more violence and language. The show is also rated TV-MA. Many of the sketches from Sweet J were redone for Robot Chicken. Three edited shorts of this Sony show were included on the Robot Chicken Season 1 DVD boxset.
Ad blocker interference detected!
Wikia is a free-to-use site that makes money from advertising. We have a modified experience for viewers using ad blockers

Wikia is not accessible if you've made further modifications. Remove the custom ad blocker rule(s) and the page will load as expected.