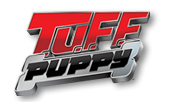 T.U.F.F. Puppy is an American animated television series created by Butch Hartman. It debuted on October 2, 2010 on Nickelodeon after the premiere of Planet Sheen. T.U.F.F. Puppy aired on Nickelodeon Canada on January 7, 2011. The show's main character is a dim-wiited but determined dog named Dudley Puppy (voiced by iCarly's Jerry Trainor), who works as a secret agent for an organization called T.U.F.F. (Turbo Undercover Fighting Force). His partner is a cat named Kitty Katswell (voiced by Grey DeLisle). Other helpers are the Chief (voiced by Daran Norris) and Keswick (voiced by Jeff Bennett). The show takes place in a fictional city called Petropolis, which is populated by animal characters. T.U.F.F Puppy is Butch Hartman's third show for Nickelodeon. In early 2011, the series was renewed for a second season scheduled to premiere sometime in 2012. Announced at the 2011 Comic-Con event, the series will also have a third season.The first season will contain 20 episodes and so will seasons 2 and 3.
Ad blocker interference detected!
Wikia is a free-to-use site that makes money from advertising. We have a modified experience for viewers using ad blockers

Wikia is not accessible if you've made further modifications. Remove the custom ad blocker rule(s) and the page will load as expected.