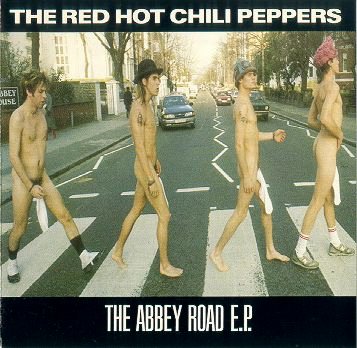 The Abbey Road is an EP by Red Hot Chili Peppers, released in 1988 through EMI America. Out of the five tracks included on this EP, four had already been previously-released on the band's studio albums. The only new track is a cover of the song "Fire" by Jimi Hendrix, which was recorded during the sessions for Freaky Styley and included as the b-side to "Fight Like a Brave". The same recording of "Fire", however, would be later included once again on the band's next studio album Mother's Milk in tribute to Hillel Slovak, the band's original guitarist who died of a heroin overdose and plays guitar on the track.The title and cover was a tribute to The Beatles' famous album Abbey Road. Like the Beatles, the cover depicts the four bandmembers walking across a zebra crossing in single file, the twist being that they are all naked except for white tube socks covering their genitals. Wearing only socks in this manner was something they regularly employed in their stage shows at the time. All songs on the EP were also featured on the band's hits compilation, What Hits!?.
Ad blocker interference detected!
Wikia is a free-to-use site that makes money from advertising. We have a modified experience for viewers using ad blockers

Wikia is not accessible if you've made further modifications. Remove the custom ad blocker rule(s) and the page will load as expected.