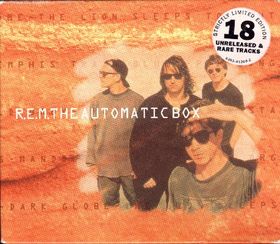 The Automatic Box is a four-disc box set by R.E.M., released in Germany in December 1993. It was primarily a collection of B-sides from Automatic for the People, though disc four contains B-sides from Green-era singles (then collected on the 7" vinyl box set Singleactiongreen). "It's a Free World Baby" and "Fretless" were both outtakes recorded during Out of Time recording sessions.
Ad blocker interference detected!
Wikia is a free-to-use site that makes money from advertising. We have a modified experience for viewers using ad blockers

Wikia is not accessible if you've made further modifications. Remove the custom ad blocker rule(s) and the page will load as expected.