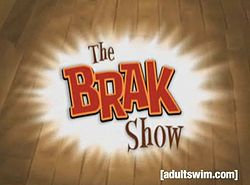 The Brak Show is an animated television series that aired on Cartoon Network's late night programing block, Adult Swim. The Brak Show is a spin-off of the animated television series, Space Ghost Coast to Coast, and featured recurring characters from Space Ghost Coast to Coast and Cartoon Planet. Both programs used stock footage from the Hanna-Barbera cartoon Space Ghost. The protagonist isBrak, voiced by Andy Merrill, who developed a quirky persona for the character.
The Brak Show premiered on December 21, 2000, and ended on December 31, 2003, with a total of twenty-eight episodes. An extra webisode debuted on Adult Swim Video on May 24, 2007. The first fourteen episodes were released on DVD on February 1, 2005, and the remaining episodes were released on August 8, 2006. In addition to being available on DVD, The Brak Show is also available on iTunesand the "Build Your Own DVD" feature on Adultswim.com. The webisode is only available on Adult Swim Video.
Ad blocker interference detected!
Wikia is a free-to-use site that makes money from advertising. We have a modified experience for viewers using ad blockers

Wikia is not accessible if you've made further modifications. Remove the custom ad blocker rule(s) and the page will load as expected.