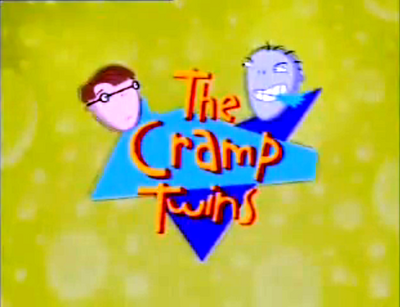 The Cramp Twins is an animated series created by cartoonist Brian Wood. The show was produced in association with Cartoon Network Europe. It is about Lucien Cramp (Kath Soucie) and Wayne Cramp (Tom Kenny), not-so identical twins who live with their hygiene-obsessed mother (Nicole Oliver) and their Western-obsessed father (Ian James Corlett) in the fictional town of Soap City. Wayne and Lucian's personalities clash, and they rarely get along. Wayne has a friend called Dirty Joe (Lee Tockar), who owns a dump, and neighbour Wendy Winkle (Reverend Andrew Sparks) has a crush on him, but he hates her. Wayne's and Lucien's teacher is Miss. Hillary Hissy (Demi Buchanan, who also plays Tony's mom Lily and Mrs. Winkle). Lucien's friends include environment-friendly Tony Parsons (Terry Klassen who also plays Tony's dad, Seth) and Mari and Luke Harrison (Adam Little). Season one premiered in the UK in September 2001 on Cartoon Network (UK) and on February 2, 2002 on CBBC on BBC One respectively and has reached high popularity with children. Season one ended on 21 June 2002. A second season premiered in Autumn 2003. Season 2 finished in 2003. Season 3 started in 2004 and ended in 2005. Season 4 began in 2006 and ended that same year but still airing in the uk. The show is currently licensed to Cartoon Network. The show was originally canceled in the US in February 2005, when Mew Mew Power (aka "Tokyo Mew Mew") was airing in its slot February 19, 2005, and it was originally intended to be a sneak peek for the series to air September 2005 with Cramp Twins continuing to air there, but 4Kids TV decided to cancel The Cramp Twins to put Mew Mew Power in its slot. A press release went out about a possible 3-part finale answering any unanswered questions, but the show returned in the summer of 2006, and later with more new episodes.
Ad blocker interference detected!
Wikia is a free-to-use site that makes money from advertising. We have a modified experience for viewers using ad blockers

Wikia is not accessible if you've made further modifications. Remove the custom ad blocker rule(s) and the page will load as expected.