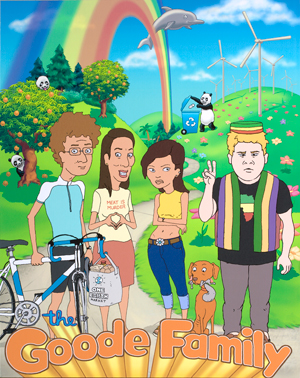 The Goode Family is an American animated sitcom, which originally aired on ABC from May 27, 2009 to August 7, 2009. The series was created by Mike Judge and follows the life of an environmentally responsible, albeit obsessive, family. The series takes a comic look at contemporary society.
On August 8, 2009, ABC Entertainment President Steve McPherson stated that the show, along with Surviving Suburbia, had officially been cancelled due to low ratings.
In 2010, reruns of The Goode Family aired Monday nights at 10pm on Comedy Central, beginning January 4. It was to be evaluated for new episodes, but was pulled off the Comedy Central schedule after only four weeks.
Ad blocker interference detected!
Wikia is a free-to-use site that makes money from advertising. We have a modified experience for viewers using ad blockers

Wikia is not accessible if you've made further modifications. Remove the custom ad blocker rule(s) and the page will load as expected.