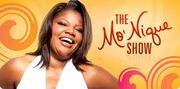 The Mo'Nique Show is an American talk show hosted by comedienne actress Mo'Nique. Aired on BET, the series began October 5, 2009. She is the first African American woman to host her own late night show.[1] The show was renewed for a second season, which premiered on Monday, October 4, 2010.
Ad blocker interference detected!
Wikia is a free-to-use site that makes money from advertising. We have a modified experience for viewers using ad blockers

Wikia is not accessible if you've made further modifications. Remove the custom ad blocker rule(s) and the page will load as expected.