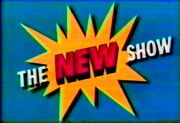 The New Show was a NBC sketch comedy show produced by Saturday Night Live creator Lorne Michaels, which ran for only one season from January 6 to March 23, 1984. Apart from being 60 minutes in length and entirely pre-recorded, the show is similar in format to SNL. It was the lowest rated of 94 programs that aired during the 1983-84 television season, averaging a dismal 7.81 household rating.
Ad blocker interference detected!
Wikia is a free-to-use site that makes money from advertising. We have a modified experience for viewers using ad blockers

Wikia is not accessible if you've made further modifications. Remove the custom ad blocker rule(s) and the page will load as expected.