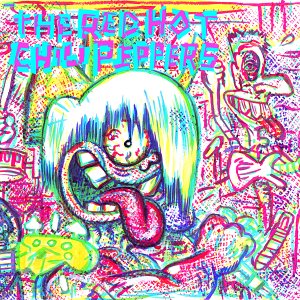 The Red Hot Chili Peppers is the debut studio album by American funk rock band Red Hot Chili Peppers, released on August 10, 1984 on EMI America Records. The album was produced by Gang of Four guitarist Andy Gill, and is the only album to feature guitarist Jack Sherman.

The Red Hot Chili Peppers struck a deal with EMI America Records. However, guitarist Hillel Slovak and drummer Jack Irons were also in What Is This?, who had signed with MCA Records two weeks prior, thus, the two were unable to play with the band. The Chili Peppers found replacements with guitarist Jack Sherman and former Weirdos & Captain Beefheart drummer Cliff Martinez.The recording of the album was not a smooth process. Andy Gill and the band fought over creative issues, with Gill directing them towards a more "radio-friendly" sound. Since all the trouble the band had with recording this album, one of the members left a pizza box filled with crap, and one of the mixers ran away screaming from the studio. In Kiedis' autobiography Scar Tissue, he says that he was demolished when he saw that Gill had written the word "shit" next to the title of the song "Police Helicopter" on a notepad as it was one of the first songs they had written and in Kiedis' words "It embodied the spirit of the band which was the kinetic, stabbing, angular, shocking assault force of sound and energy". The band were said to not be pleased with the production on the album, preferring the demo versions they had recorded earlier with Slovak and Irons.They went on tour to support the record but the rest of the band did not get along with Sherman. They only earned about $500 each from the tour. Both albums, The Red Hot Chili Peppers and Squeezed by What Is This? did not do well, so Jack Sherman was fired from the Peppers and Hillel Slovak returned to perform on Freaky Styley, the Chili Peppers' second album.
Ad blocker interference detected!
Wikia is a free-to-use site that makes money from advertising. We have a modified experience for viewers using ad blockers

Wikia is not accessible if you've made further modifications. Remove the custom ad blocker rule(s) and the page will load as expected.