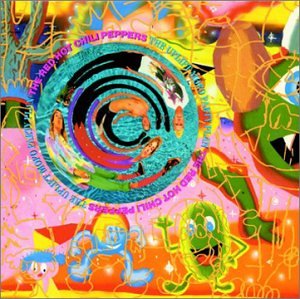 'The Uplift Mofo Party Plan is the third studio album by American funk rock band Red Hot Chili Peppers, released on September 29, 1987 on EMI America Records. Due to lineup changes following their formation in 1983, The Uplift Mofo Party Plan is the only studio album to feature all four original members of the band: vocalist Anthony Kiedis, bassist Flea, guitarist Hillel Slovak, and drummer Jack Irons. Uplift features the band's signature funk-rock musical style, but also draws influences from reggae and hard rock. For the album, the Red Hot Chili Peppers recruited new producer Michael Beinhorn, who encouraged the members to expand their musical horizons in order to create a more diverse work.'The recording process was difficult as Kiedis often skipped recording sessions to search for drugs; however, the band was content with its work on Uplift. Flea later referred to the album as "the 'rockingest' record" the band has ever made.[1] The album was more successful than its predecessors both critically and commercially, and was the band's first album to enter the Billboard 200, where it charted at number 148. After the tour promoting the album, Slovak died of a heroin overdose and Irons quit the band, unable to cope with the death. However, Kiedis and Flea decided to continue making music, and recruited guitarist John Frusciante and drummer Chad Smith for the Chili Peppers' next album, Mother's Milk.
Ad blocker interference detected!
Wikia is a free-to-use site that makes money from advertising. We have a modified experience for viewers using ad blockers

Wikia is not accessible if you've made further modifications. Remove the custom ad blocker rule(s) and the page will load as expected.