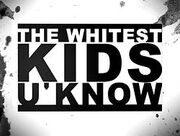 The Whitest Kids U' Know is an American sketch comedy troupe and television program of the same name. The group consists ofTrevor Moore, Sam Brown, Zach Cregger, Timmy Williams and Darren Trumeter, though other actors occasionally appear in their sketches. They were accepted into the HBO U.S. Comedy Arts Festival in 2006 and won the award for Best Sketch Group.
In the late spring of 2010, the troupe went on a cross country tour to promote the fourth season of the show, which premiered on June 11, 2010 on IFC. The fifth and final season finished filming on July 28, 2010[1] and premiered on April 15, 2011 ending on June 17, 2011
Ad blocker interference detected!
Wikia is a free-to-use site that makes money from advertising. We have a modified experience for viewers using ad blockers

Wikia is not accessible if you've made further modifications. Remove the custom ad blocker rule(s) and the page will load as expected.