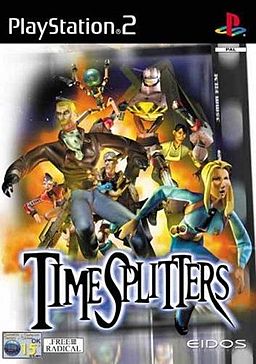 TimeSplitters is a first-person shooter developed by Free Radical Design (now known as Crytek UK) and published by Eidos, and the first game in the TimeSplitters series. It was released on 26 October 2000 in North America as a PlayStation 2 launch game. The game revolves around the concept of travelling through time in a story mode spanning 100 years. The game features a story mode, arcade mode, unlockable challenge mode, and map maker.
It was followed by a second game, TimeSplitters 2, released in 2002, thus beginning the series, which includes a third game,TimeSplitters: Future Perfect, released in 2005. In June 2007, a fourth game was announced to be in development, titledTimeSplitters 4 but was indefinitely postponed.
Ad blocker interference detected!
Wikia is a free-to-use site that makes money from advertising. We have a modified experience for viewers using ad blockers

Wikia is not accessible if you've made further modifications. Remove the custom ad blocker rule(s) and the page will load as expected.