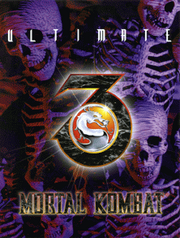 Ultimate Mortal Kombat 3 (UMK3) is a fighting game in the Mortal Kombat series, released in arcades in 1995. It is an update ofMortal Kombat 3 and was later updated again into Mortal Kombat Trilogy. According to designer Ed Boon in 2008, this game is his favorite 2D Mortal Kombat title.[1]
In 2006 an arcade-perfect version of UMK3 shipped with the premium versions of Mortal Kombat: Armageddon for the PlayStation 2. Midway had also released an online version of Ultimate Mortal Kombat 3 for the Xbox Live Arcade on the Xbox 360 prior to bankruptcy. The game was released to the marketplace in North America accidentally on October 20, 2006; it was then taken off, before being released officially on October 21. In 2007 the Nintendo DS version called Ultimate Mortal Kombat was also released. In 1995 through 2000, the Microsoft Windows versions for 95, 98, 2000 and Me also known as Ultimate Mortal Kombat: Third Legions were released.
This game is rated M on the Nintendo DS, Microsoft Windows, Xbox 360, Sega Saturn, Sega Mega Drive/Genesis and SNESversions. On the last three versions, it is rated M for Realistic Violence and Realistic Blood and Gore; for the Nintendo DS and Xbox 360 the M rating is for Blood and Gore and Intense Violence. The game is not rated in the Arcade version, but it has the AAMA rating of Life-Like Violence Strong.
Ad blocker interference detected!
Wikia is a free-to-use site that makes money from advertising. We have a modified experience for viewers using ad blockers

Wikia is not accessible if you've made further modifications. Remove the custom ad blocker rule(s) and the page will load as expected.