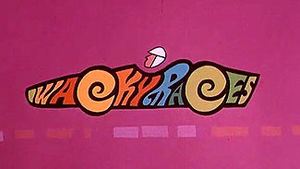 Wacky Races is an animated television series produced by Hanna-Barbera.[1] The series features 11 different cars racing against each other in various road rallies throughout North America,[2] with each driver hoping to win the title of the "World's Wackiest Racer." Wacky Races ran on CBS from September 14, 1968, to January 4, 1969. Seventeen episodes were produced, with each episode featuring two different races.
The cartoon was unusual in the large number of regular characters, twenty-four in total: the twenty-three people and animals spread among the 11 race cars, plus the unseen (and never identified) race announcer. Reruns of the series currently air several times a day on Cartoon Network's classic animation network Boomerang.
Ad blocker interference detected!
Wikia is a free-to-use site that makes money from advertising. We have a modified experience for viewers using ad blockers

Wikia is not accessible if you've made further modifications. Remove the custom ad blocker rule(s) and the page will load as expected.