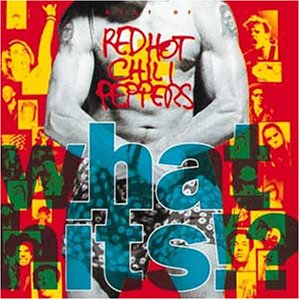 What Hits!? is a compilation album by Red Hot Chili Peppers, released on September 29, 1992 by EMI. The album contains tracks from the band's first four albums as well as "Under the Bridge" from 1991's Blood Sugar Sex Magik and the stand-alone single "Show Me Your Soul".This album was released on EMI/Capitol records through a deal with Warner Bros. Records. The labels agreed that EMI/Capitol would keep all rights to any material the Peppers recorded there except one song, and Warner Bros. would then give EMI rights to one song recorded during the Peppers career there, so each company could produce a greatest hits compilation. EMI chose "Under the Bridge" for What Hits!? and Warner Bros. chose "Higher Ground" for the 2003 compilation Greatest Hits.The title of the compilation is a joke alluding to the relative lack of success achieved by the Red Hot Chili Peppers during their tenure with EMI, highlighting the irony that many of the tracks included on what is supposed to be a 'greatest hits' compilation were generally singles that peaked notably low in the charts, arguably too low to be considered 'hits' (and even in some cases, such as "The Brothers Cup" and "Johnny Kick a Hole in the Sky", were never released as singles at all). Most of the material released on this album were songs taken from Freaky Styley (1985) and Mother's Milk (1989)."Behind the Sun" was released as a single to accompany the release of this compilation, originally appearing on the band's 1987 album The Uplift Mofo Party Plan. Although a music video was also made, the Red Hot Chili Peppers had no involvement in its making since it was produced by EMI. The video reuses segments of the band performing taken from their earlier video for "Higher Ground".
Ad blocker interference detected!
Wikia is a free-to-use site that makes money from advertising. We have a modified experience for viewers using ad blockers

Wikia is not accessible if you've made further modifications. Remove the custom ad blocker rule(s) and the page will load as expected.