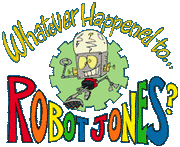 Whatever Happened to... Robot Jones? (usually shortened to Robot Jones) is an American animated television series that aired on Cartoon Network from 2002 to 2003. The show centers on Robot Jones, a robotic teenager attending a suburban middle school.
The series was created by cartoonist Greg Miller, who made a pilot for the series that aired in 2000 to compete with other pilots to be picked up by the network. While The Grim Adventures of Billy & Mandy won the contract, Robot Jones still got a run in 2002. After waning support from the network executives, constant time slot changes, and steps to 're-develop' the series, (including re-casting the voice of Robot), Greg Miller left the show out of frustration and Robot Jones was left to air its second, and final season. In 2005 the series returned to television, albeit in a minor role. Episodes of the series could be seen from time to time on The Cartoon Cartoon Show on Cartoon Network, along with shorts of other series that ended during that time period (Mike, Lu & Og, Cow and Chicken, etc.).
Ad blocker interference detected!
Wikia is a free-to-use site that makes money from advertising. We have a modified experience for viewers using ad blockers

Wikia is not accessible if you've made further modifications. Remove the custom ad blocker rule(s) and the page will load as expected.