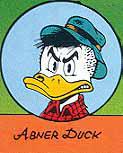 Whitewater Duck was created by Carl Barks and used only in his story "Log Jockey", published in Walt Disney's Comics and Stories #267 on December, 1962. According to that story, he is a distant cousin of both Donald Duck and Huey, Dewey, and Louie, and works as a lumberjack in the woods.
On Don Rosa's Duck Family Tree Whitewater's real name is stated to be Abner Duck, with "Whitewater" only being a nickname. He is also shown to be a son of Eider Duck and Lulubelle Loon and the brother of Fethry Duck, making him Donald's first cousin. In his second appearance in a story, "Smarter Than The Toughies" (published in the USA in Uncle Scrooge #349) by Lars Jensen and Daniel Branca, Whitewater is instead shown to be the nephew of Scrooge McDuck's cousin Douglas McDuck, making him Donald's second cousin.
Ad blocker interference detected!
Wikia is a free-to-use site that makes money from advertising. We have a modified experience for viewers using ad blockers

Wikia is not accessible if you've made further modifications. Remove the custom ad blocker rule(s) and the page will load as expected.