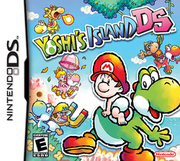 Yoshi's Island DS (ヨッシー アイランド DS Yosshī Airando Dī Esu?) is a platforming video game developed by Artoon for the Nintendo DS. Published by Nintendo, it was released in North America and Australasia in November 2006, in Europe in December 2006, and in Japan in March 2007.[1] It is the sequel to the 1995 SNES game, Super Mario World 2: Yoshi's Island. Announced at Nintendo's E3 press conference in May 2006,[2] the game was well received by critics, scoring an average of 83% on Metacritic's aggregate.[3] The game was originally going to be titled Yoshi's Island 2; its name was changed two weeks before its U.S. release.
The game's story focuses on the Yoshi clan as they attempt to rescue newborn children that have been kidnapped by Kamek.[4] Yoshi's Island DS uses the updated graphical style from Yoshi Touch & Go but retains the same core gameplay as its Super Nintendo Entertainment System predecessor,[2]but whereas the SNES game featured only Baby Mario, DS introduces Baby Peach, Baby DK and Baby Wario and lets the player control Baby Bowser(who was a boss in SMW2), who each give Yoshi a different ability.[4] The aim of the game is to use these abilities to progress through various themed worlds.
Ad blocker interference detected!
Wikia is a free-to-use site that makes money from advertising. We have a modified experience for viewers using ad blockers

Wikia is not accessible if you've made further modifications. Remove the custom ad blocker rule(s) and the page will load as expected.